After presenting their Digital Report 2022 which reports statistics on the use of the web and social networks on a global scale, We Are Social and Hootsuite publish key figures dedicated to France.
Figures to remember about using the internet and networks in France
According to the report, out of 65.51 million people in France, there are:
60.92 million Internet users, or 93% of the population (+ 2.4% compared to January 2021),
1.5 million additional Internet users,
52.60 million users of social networks, or 80.3% of the population,
3 million new social media users in France,
5h34 time spent online per day, including 2h19 via mobile phone,
86.5% of users access the Internet via their mobile phone.
The French are increasingly interested in related facilities
In 2022, 95.1% of French people between the ages of 16 and 64 will have a smartphone, and 79.5% will have a computer. The numbers are slightly lower than in January 2021. Similarly, the report shows a sharp decline in the attractiveness of tablets. 46.1% of French people say they own them, which is 5.7% less than in January 2021. On the other hand, the purchase of connected watches (20.3%), connected home facilities (12.3%) or even virtual reality headset (4.4%)% is on the rise.
1h46 spent on social networks
In 2022, French users spend an average of 5×34 online per day, which is 3 minutes less than in January 2021. They spend 3×19 watching television (-8 minutes) and 1×06 reading the press (printed or fine), which is a stable figure compared until last year. However, in 2022, the French spend 5 minutes more per day on social networks (1×46), 11 minutes more listening to music on the streaming service (1×06) and 1 minute more listening to podcasts (30 minutes).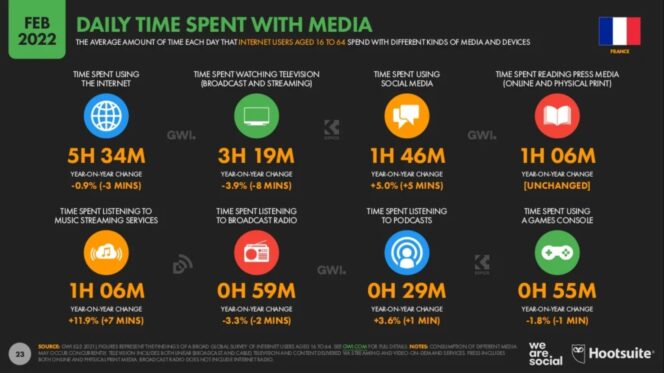 89.3% of French people watch TV programs in streaming
In 2022, 89.3% of French internet users watch streaming TV programs every month. They spend an average of 49 minutes a day watching this type of program. Every week, 32.5% of French Internet users aged 16-64 listen to streaming music, 12.5% ​​podcasts, 6.6% audio books.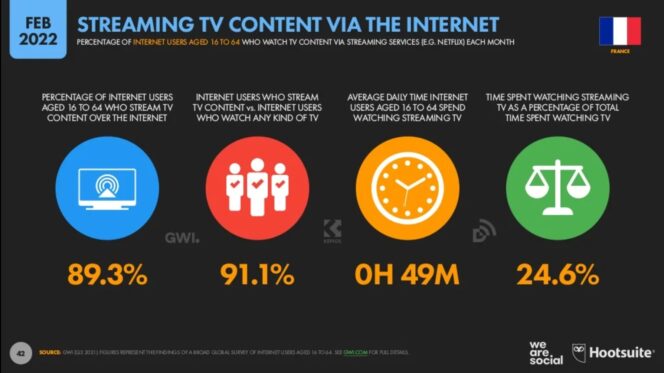 Google, YouTube and Facebook remain the most visited pages in France
According to a ranking determined by Similarweb, based on annual website traffic for 2021, Google (29.3 billion visits), YouTube (9.32 billion) and Facebook (7.34 billion) are the websites most consulted in France. Google.fr ranks 4th, Amazon 7th, Twitter 8th, Instagram 11th and Netflix 13th. Users spend an average of 11 minutes and 55 seconds on Google compared to 20 minutes and 51 seconds on YouTube.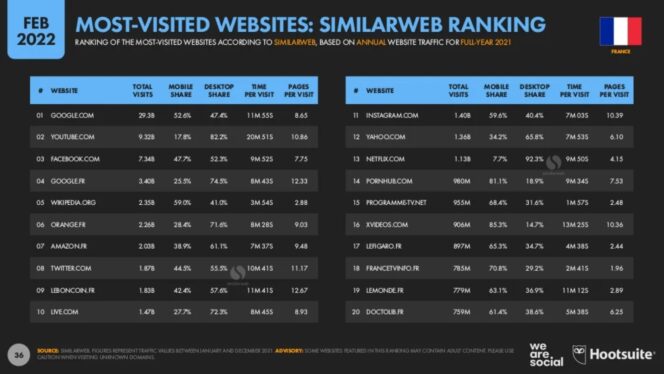 Top 20 Queries on Google
"Weather", "Facebook" and "Google" are the backbone of the most formulated queries on Google. We also find "YouTube" in 4th place, "TV program" in 5th position and "Translation" in 6th place in the rankings. We note that "Coronavirus", which last year was on the 3rd position on the ranking list, is no longer a part of it today. However, "Covid" ranks 7th in the rankings, and "certification" ranks 19th (compared to 11th in January 2021).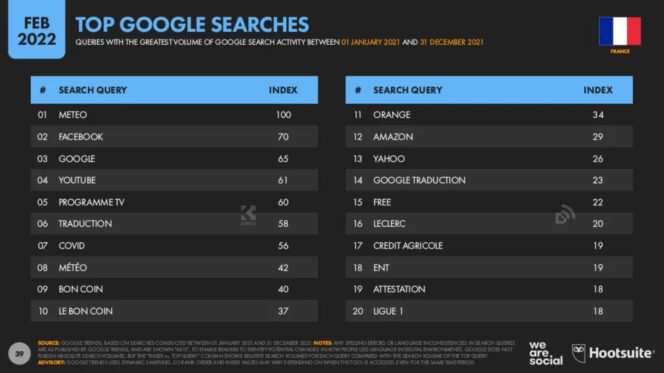 70.5% of French people use the Internet for information
The reasons why French Internet users use the Internet are multiple. The vast majority of French people (70.5%) use the Internet to find information. 60.6% of internet users say they use it to learn how to do certain things (recipes or tutorials). The reasons for "following the news and current events", as well as "staying in touch with friends and family" are almost equal, with 59.9% and 59.3% respectively.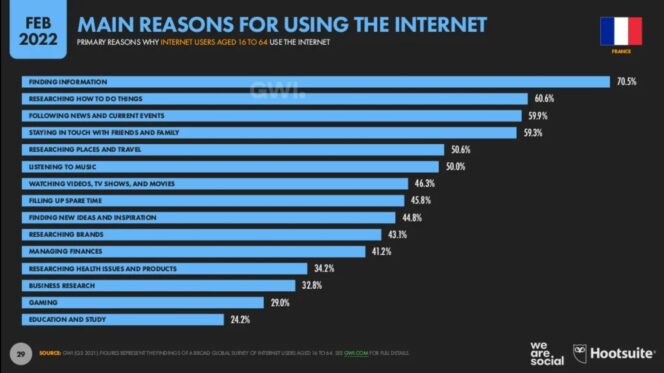 Facebook and Messenger dominate the list of most frequently used social media
Meta's four main platforms are at the top of the list of the most used social networks in France. Thus, 73.2% of French Internet users use Facebook, while 59.5% use Messenger. WhatsApp closes the podium (55.7%) and Instagram ranks 4th in the rankings (54%). YouTube is in 5th place and Snapchat is in 6th place ahead of TikTok.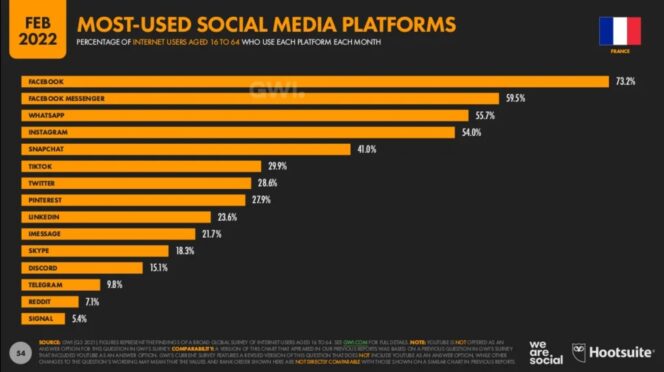 French Android users spend more than 21 hours a month on the TikTok app
The report reveals the monthly time spent on social media apps for French Android users. Thus, we discover that Internet users spend more than 21 hours a month on the TikTok application. This is the one that recorded the largest increase: + 22% compared to January 2021. In addition, the French spend 13 hours on Facebook, 11.9 hours on YouTube, 8.5 hours in the morning. on Instagram and 5.4h on WhatsApp.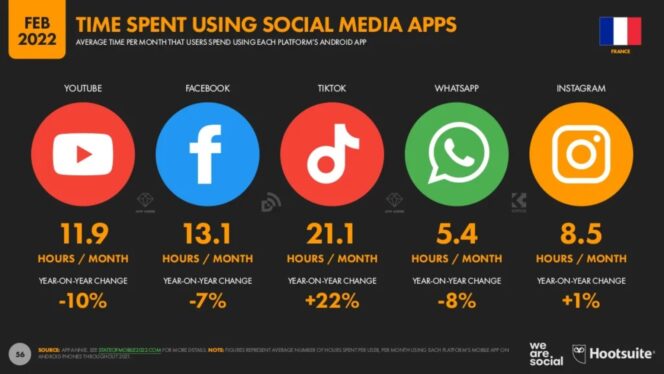 Potential advertising audience of major social networks in France
The report provides an overview of the number of users that can be reached by a marketing campaign on various social networks:
YouTube: 52.60 million users
Facebook: 31.35 million users
Instagram: 26.55 million users
LinkedIn: 23 million users
Snapchat: 24.20 million users
TikTok: 17.48 million users
Pinterest: 11 million users
Twitter: 10 million users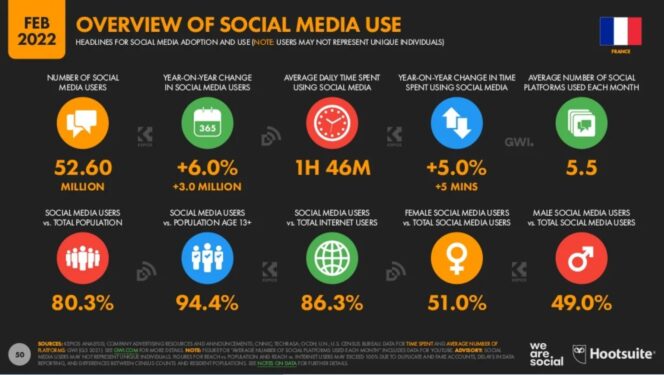 Mobile phone use in France
According to the report, French users spend 3 hours and 33 minutes on their smartphones every day. The number of applications downloaded between January and December 2021 is 2.08 billion. When it comes to spending on mobile apps or within apps, they account for $ 2.25 billion, up 9%.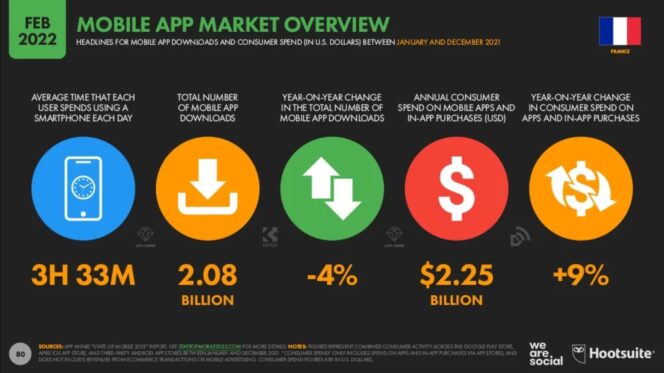 Top 10 most used mobile applications
According to the ranking made by App Annie, here are 10 mobile applications (without games) that bring together the most monthly active users in France:
WhatsApp
Facebook
facebook messenger
instagram
AllAntiCovid
Snapchat
Waze
netflix
Amazon
TikTok
As far as mobile games are concerned, FDJ, Candy Crush and Pokémon Go make the podium of the most used apps in France.
Top 10 most downloaded mobile apps
Based on the App Annie ranking list, established for 2021, here are the 10 most downloaded applications (without games) in France:
AllAntiCovid
WhatsApp
TikTok
instagram
Doctolib
shein
Facebook
Snapchat
Uber Eats
Vinted
The We Are Social / Hootsuite report is very comprehensive. Discover all the information gathered in this study in the document below: