This year, ChannelAdvisor has partnered with the Dynata Public Opinion Research Institute to study the behavior of global cyber buyers, especially the French. In this study, discover the trends that, as e-commerce players, should guide your actions and decisions in the coming months and years.
Download the study for free
Covid-19 pandemic: what impact on French shopping?
Almost half of French consumers (40%) say they shop online more often than before the pandemic. The share of people who say they shop online more often is higher among women (43%) than among men (38%). The habits of a person aged 26-35 changed the most (54%). Another figure to point out: 43% of French buyers say they buy more often from Amazon than before the pandemic.
French customers prefer fashion, beauty / health and leisure
During the first months of the pandemic, many statistics emerged on the product categories that benefited the most or suffered the most from the crisis. But he
It is important to keep in mind the appropriate weights of these categories in the value, scope and penetration of e-commerce. Fashion (clothing / shoes / accessories) is, in France, the category with the highest penetration of e-commerce, followed by beauty / health and toys / games / leisure.
Favorite products of French customers differ by age and gender
Depending on the age and gender of the respondents, there are large differences in attitudes about shopping in relation to different categories. Those aged 18-25 will favor electronics / photography, office supplies and cars / motorcycles / boats, while those aged 65 and over will focus on products from DIY, gardening, groceries, toys / hobbies. In terms of gender, men are more likely to buy products from the following sectors: electronics / photography, car / motorcycle / boat, do-it-yourself / gardening. Women will spend more on health / beauty, jewelry / watches, but also on fashion.
Discover your favorite products by age and gender
French channels of discovery: word of mouth, markets, etc.
You also need to ask the right questions: where do customers find the products they buy? Where do you have to be present to not miss the ship? With 37% of people claiming to have discovered mouth-to-mouth products (40% among women), France is 5 points above the average for other countries (32%).
Social networks and advertisements on these networks are the main channels of discovery for 18-25 years (54% and 44%, respectively). Seniors (65+) are below average on all channels, except in the "Market Review" and "Brand or Retail Page" answers.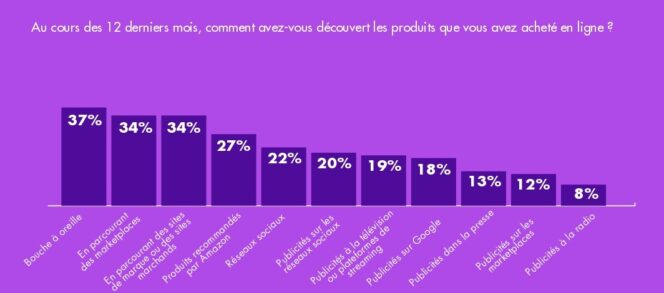 Almost half of the customers are looking for their products on Amazon
French customers are more likely to search for their products on Amazon (47%) than on search engines (28%). There is a strong prevalence of Amazon as the first shopping destination. This is a trend that has been growing for several years: many customers use the Amazon search engine directly, without going through the traditional search engine. Conclusion: E-retailers therefore have every interest in being well-referenced in markets such as Amazon.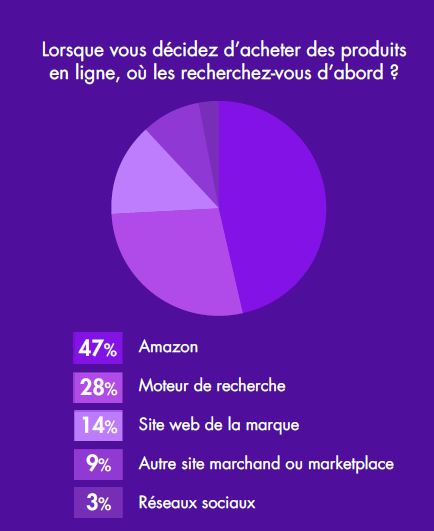 To learn more about how the French discover products online, you can download the entire study by clicking on the link below.
Download the study for free