Fevad (Federation of E-Commerce and Distance Sales) has just produced a map of French e-commerce in 2020 that allows the identification of major economic trends and new consumer trends in France.
E-commerce turnover exceeds 100 billion euros
Internet sales have been growing steadily since 2015. The 100 billion euro milestone was reached in 2019: 103.4 billion euros, an increase of 11.6% compared to 2018.
Increasing the number of online and mobile customers
8 out of 10 internet users buy a product or service via e-commerce, all media together, or 40 million French people. This figure is also on the rise (+ 800,000 in one year).
In 2019, there was an increase in customers of mobile devices: + 3.1 million users, or + 23.7% in one year. In total last year, 16.3 million French people bought from their mobile phones. Namely: 49% of mobile e-shoppers shop online at least once a month via their mobile.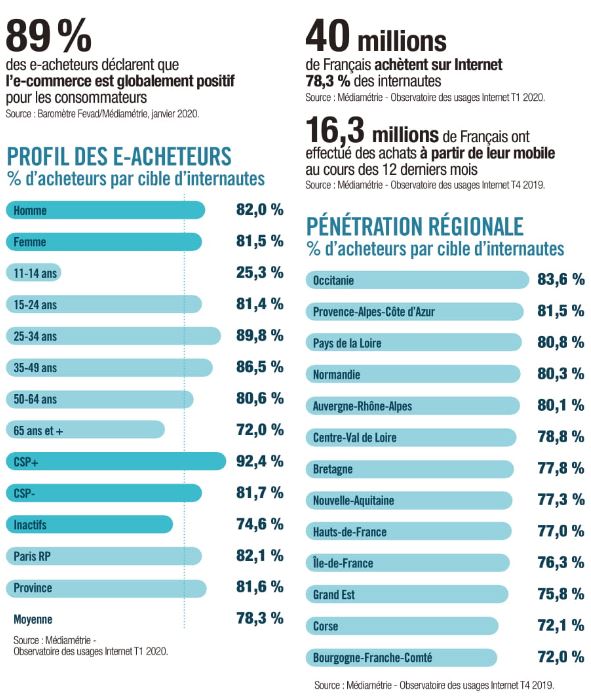 More than 200,000 active trading pages
In the first quarter of 2020, 200,650 trading pages were listed as active. The pages with the largest number of customers in 2019 are: Amazon, Fnac, Cdiscount, Veepee and E. Leclerc.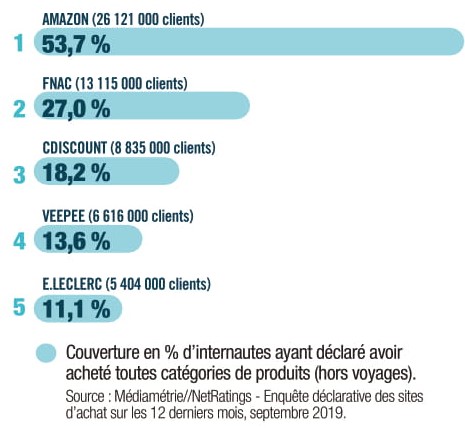 The most purchased products and services on the Internet
At the top of the scale are fashion and clothing (51%), followed by cultural products (41%) and games and toys (38%). These figures correspond to the number of e-shoppers by categories for 2019.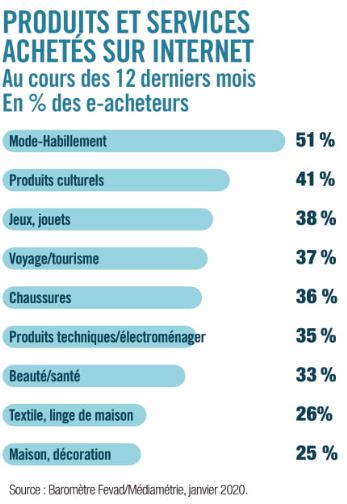 E-commerce, job generator
E-commerce represents more than 200,000 direct jobs: a number that is increasing year by year. Among the leading locations, we note that more than half increased their workforce in 2019. We must also take into account the numerous jobs in the field of transport and logistics that are closely related to the sector.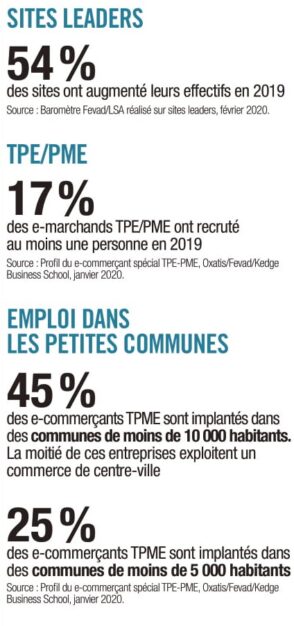 E-commerce is increasingly used by traders and craftsmen
Merchants and craftsmen are increasingly using e-commerce. The study reveals omnichannel dynamics. Most small and medium e-retailers also have a physical store to sell their products or do so through their distribution networks. Those who use both channels see an increase in traffic.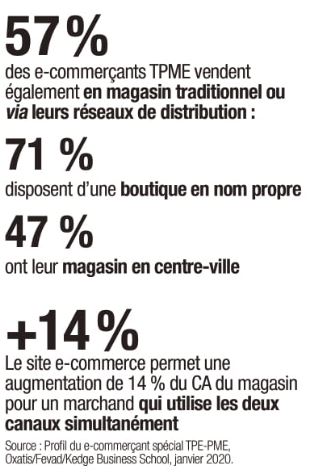 E-commerce and the environment: e-shoppers have expectations
E-shoppers have increasing expectations in terms of environmentally responsible spending. More than 70% of customers prefer sites that show a responsible approach.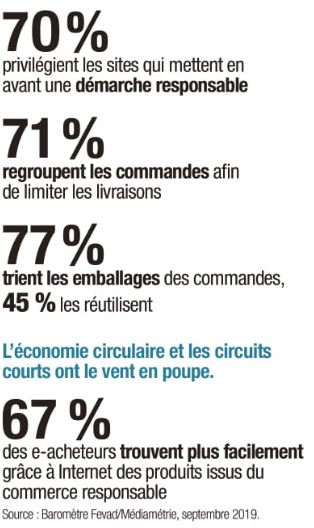 E-commerce between companies: more than 150 billion turnover
In terms of e-commerce on websites B to B, 130 billion euros were generated for companies with more than 10 people and more than 15 billion euros for those with less than 10 people. Over the past three years, the growth of e-commerce traffic from B to B averaged 15% per year.
The percentage of B to B sales via websites is higher in the United Kingdom (5%), but France leads in sales of B to B via EDI (15%), compared to 11% for all EU countries.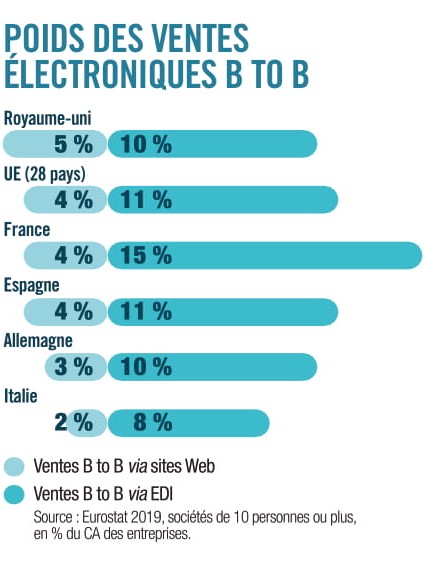 Source: La Fevad