The figures presented come from the study French and mobile trade – February 2021, conducted with OpinionWay and iloveretail.fr for Proximis. It was conducted during the month of January 2021 on a representative sample of the French population aged 18 and over (out of 1001 people).
A third of French people make at least one purchase a month on their phone
It is interesting to know that 34% of French people make at least one purchase per month on their phone, hence the importance of e-commerce sites to optimize the shopping experience on mobile devices. As the picture on the cover of this article shows, the French most often use their mobile to buy food (supermarkets), to buy clothes (fashion / clothing) or to shop in an e-general store.
Almost 1 in 2 French people buy online via mobile phone
Not a negligible fact: 48% of French people buy via e-commerce from their mobile phone, or almost half. Computers are still the most commonly used devices, and 75% of French people say they use them to shop online.
The French are now buying from anywhere
We see that the French are now buying anywhere, especially from home. 75% say they bought from their stay. But that does not stop them from buying at their workplace (34%) or on public transport (25%).
Time of day suitable for shopping
The French will buy more of their products in the afternoon or evening. In fact, 67% make at least one purchase in the afternoon, and 52% make at least one purchase in the evening or at night. On the mobile side, we see that the time of day when the French buy the most is between 3 and 7 p.m.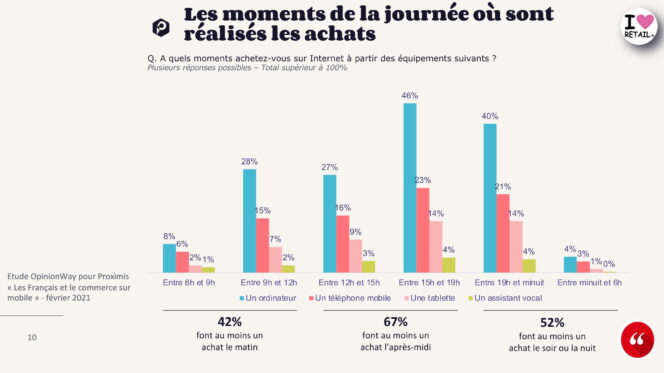 Mobile use before buying the product
Before making a decision to buy a product, the French will first use a mobile phone to find the location of the store (31%), opening hours (30%) and the price of the product (20%). Product availability and customer reviews are also two elements that French internet users will be looking for. Keep in mind that 42% of French people use their mobile phone to find information before buying.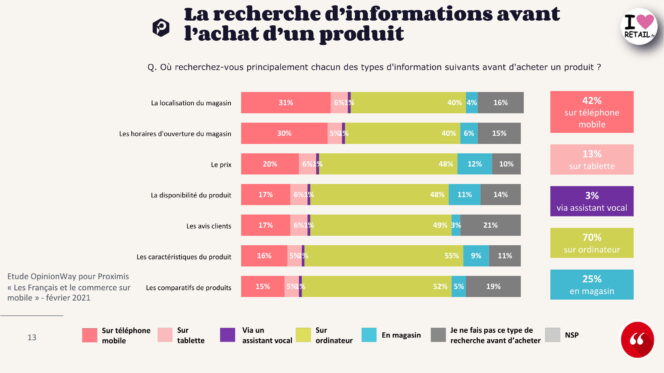 Mobile use when shopping in the store
The use of telephones in stores has become commonplace, as almost 1 in 2 French people (48%) often use a telephone to perform at least one action.
Applications most sought after by French people when shopping in a store (score based on% according to frequency of use "often" or "from time to time"):
those who use their loyalty cards or points (48%)
those looking for product information (42%)
they paint the product (41%)
It should also be noted that contactless payment is now used by 38% of French people, an increase in use linked to the specific context of the current health crisis.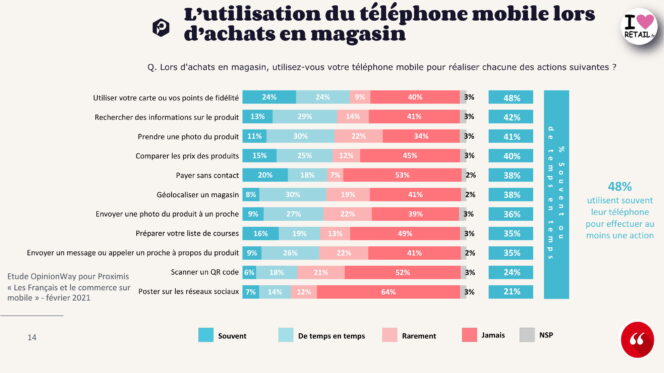 1 in 2 A Frenchman buys on a mobile device after seeing a promotion in a store
50% of French people make a purchase on a mobile phone after seeing a promotion in a store. Paper communication, email and notifications directly on your smartphone are also levers that encourage people to shop.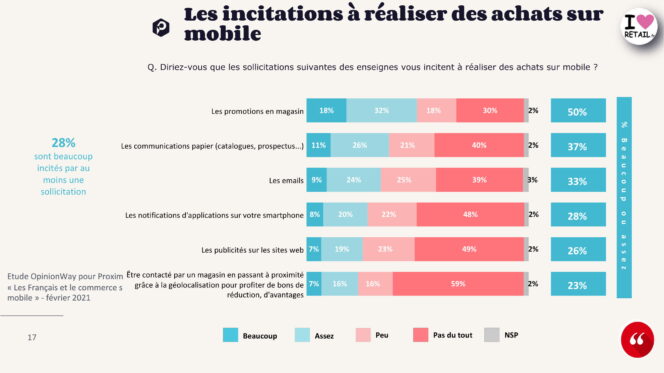 Levers for optimizing mobile sites
When searching on a mobile device, 30% of French people would like to highlight the cost of delivery ("look bigger"), as well as the terms of replacement and return (25%), availability of products in the store (24%), price (24%) and estimated delivery date (24%). In the study, you will also find brands that offer the best mobile shopping experience, sector by sector. In all sectors, Amazon comes in first, followed by Decathlon and Jeff de Bruges.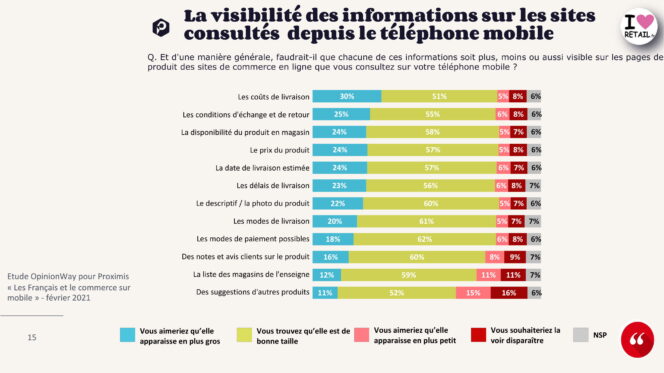 Download the complete study