After the milestone of one billion users that passed in July 2021, the model of the Chinese company is on the way to consolidating itself among historical players.
From a simple music application to a social network that manages trends, TikTok has established itself in recent years as a model of success among all social networks. The Chinese app is increasingly being followed across the Atlantic, where Instagram, Facebook, and even YouTube and Twitter are heavily inspired by its innovations – although the app is still heavily criticized for managing personal data.
Recently, billionaire Elon Musk mentioned the success of the app, which he believes is "not boring", as part of his plans to develop Twitter.
Speed ​​and dynamics
The impact that TikTok has on the functioning of other social networks is particularly due to its own model: the application of short videos, no longer than sixty seconds (initially), which are interconnected through an algorithm.
In order to compete with this format, which proved to be especially popular, Instagram launched "Reels" in June 2020; a series of sixty other videos on the same principle as TikTok.
For its part, YouTube created "Shorts" during the summer of 2021, still on the same principle. The company also claimed that in mid-June 2022, it reached a milestone of 1.5 billion users.
Finally, Snapchat also has its own short video format, Spotlight, from the end of 2020. Shorts and Spotlight allow you to record videos for up to one minute.
Proof that the Chinese company is raining and shining on trends: when TikTok increased the length of its videos to three to ten minutes, Instagram followed it, increasing from one to a minute and a half the length of its videos.
TikTok, vacuum cleaner for attention
However, the added value of TikTok lies in its algorithm, which is very dynamic and is now known to lock its users into filter bubbles that are particularly effective at sucking users up during long hours on their smartphone.
The numbers are convincing: according to App Annie, French users spent on average twice as much time on TikTok in 2020 as they did on Instagram. Over a month, that's 17.3 hours for TickTook, compared to 8.4 for Instagram.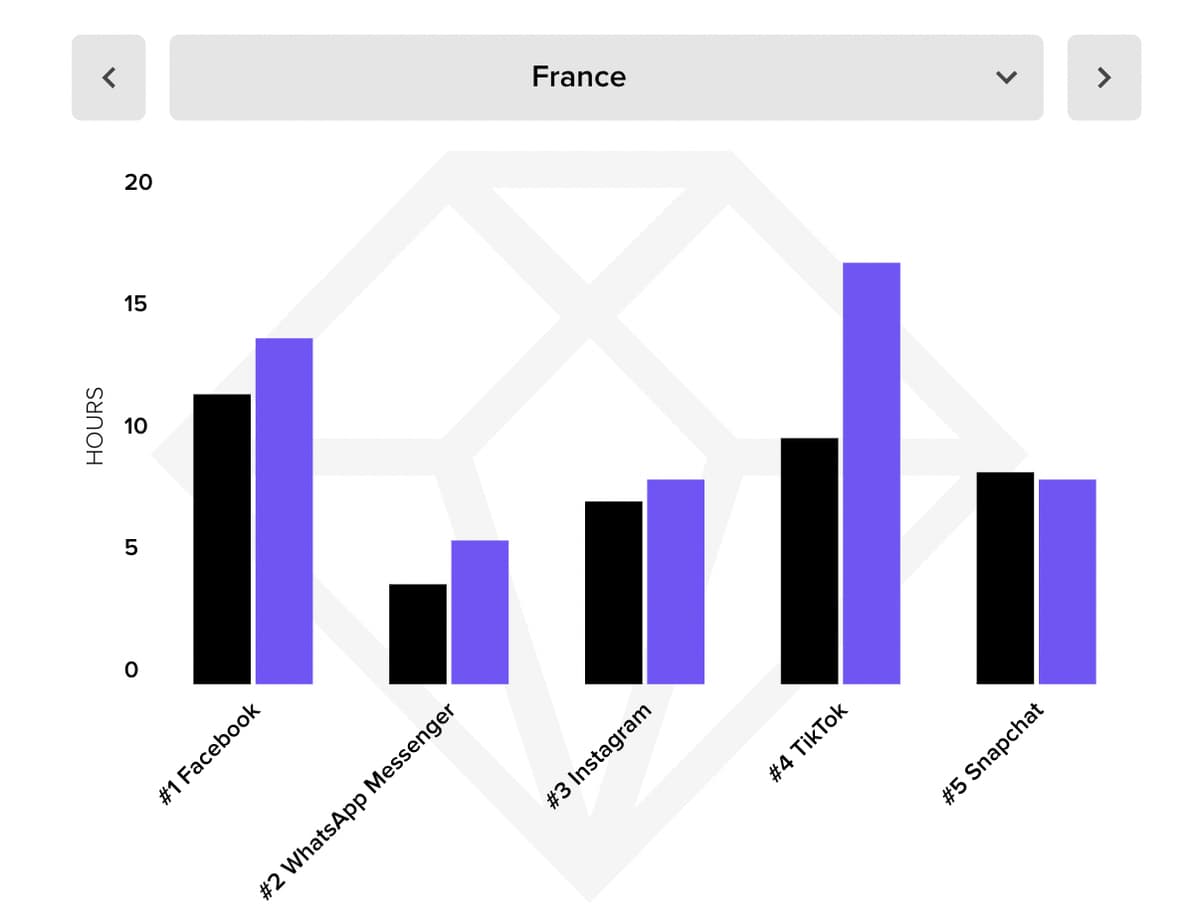 By comparison, in 2019, TikTok's average was 10.1 hours per month compared to 7.5 hours on Instagram. As Meta's application stagnated, the Chinese nugget grew.
A difference that can be seen in all Western markets: in the United States, TikTok was consulted for an average of 21.5 hours per month, compared to only 7.5 hours for Instagram. That's three times more than the Facebook affiliate.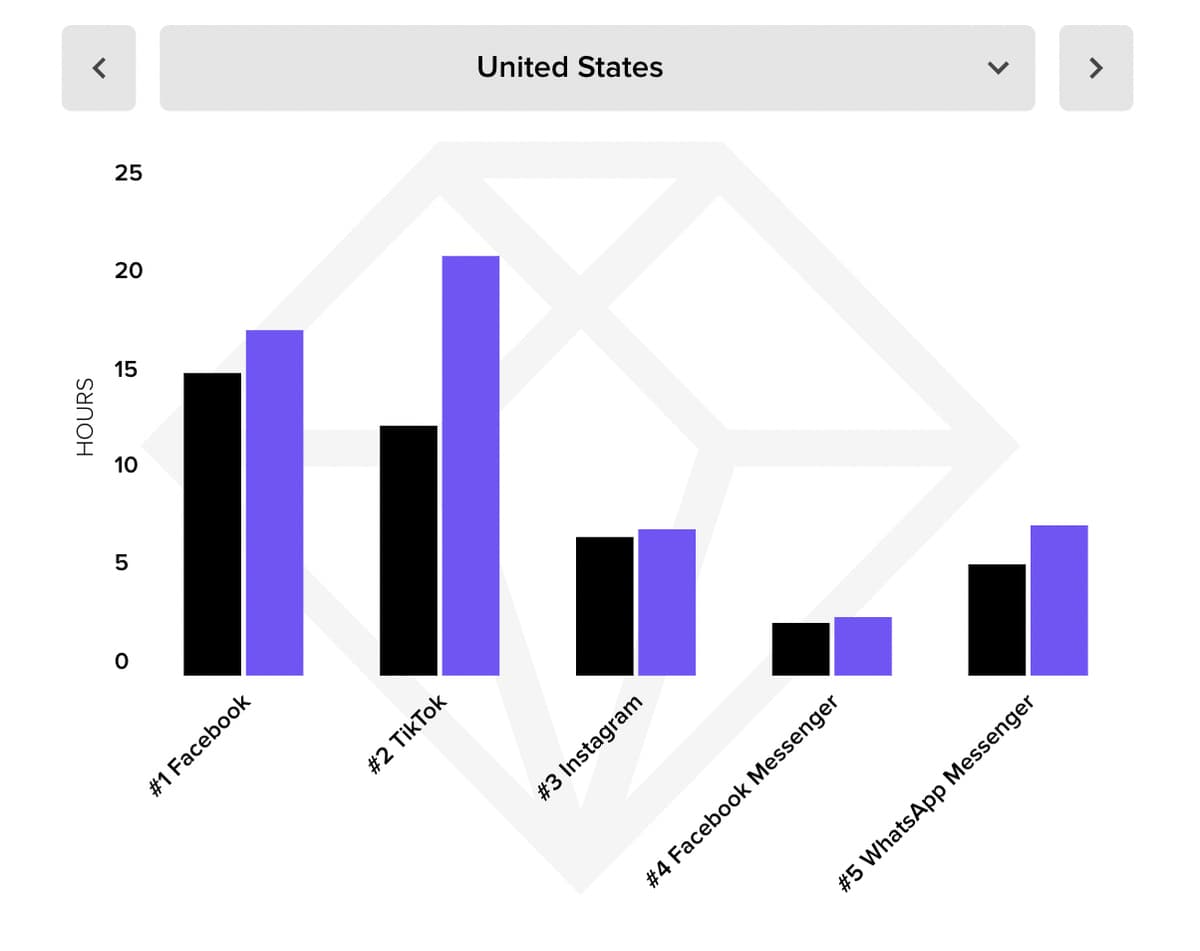 Other data support these impressive differences: on average, according to the American company eMarketer, users spend about 45 minutes a day on TikTok, compared to 34 for Twitter and 30 for Instagram, Snapchat and Facebook.
And this time spent is economically decisive for companies: the number of ads displayed, on which revenues are based, is the key to their profitability. TikTok thus wins the battle of "available time for the brain".
Full screen view
During the investigation by Wall Street Journal on the precious TikTok algorithm, Guillaume Chaslot, founder of Algo Transparency, a non-governmental organization that researches algorithmic social networking practices, deciphered the operation of this viewing machine.
"The algorithm will push you towards more and more extreme content, in order to maximize the time spent on the application. You don't like it because you watch them, but you are more likely to keep you on the platform longer," he explained.
And it seems that other giants of social networks are following this pattern. If Instagram has so far been limited to Reels, an app that wants to replicate the effectiveness of TikTok will now test full-screen display on its main news feed. The videos will therefore take up the entire screen of the smartphone, just like TikTok.
But format is not necessarily synonymous with success. A sign of the omnipotence of TikTok: a large number of Instagram reels are actually just the covers of videos that were originally published on the Asian application.