The digital environment in which we live, and especially social networks, has completely transformed the way we communicate.
Facebook, Twitter, Instagram and WhatsApp are platforms where users communicate not only with friends and family, but also with brands and public organizations, creating an ecosystem that has become part of society.
In this context and in recent years, TikTok – a social network launched in September 2016 by the Chinese company ByteDance for the non-Chinese market, which aims to create and share short videos – has positioned itself as one of the most used applications. in the world, especially among young people. Indeed, it became the most downloaded app in the world in 2020, and in the United States it managed to surpass Instagram in popularity among Generation Z. These data show the rapid growth of the platform industry.-forms that offer viewing and creating short videos.
The popularity of these tools makes them a phenomenon of study; One of the most common approaches to social media, both in academia and professionally, is membership. It's about how you manage user engagement in the digital world, motivating them to spend more and more time on the platform.
What attracts us?
Previous research has shown that three variables directly affect the number of hours a user spends on these platforms, ie the degree of commitment to them.
The first variable studied is the existence of constant motivation, understood as one that leads the user to continue using the platform and which is an extension of the demand for the social network. This constant motivation is directly related to the pleasure experienced by using social networks, as well as to the one that arises from receiving positive comments, likes or other rewards in this environment.
Another driver of using social networks is the desire to share experiences. When we use social networks, we don't just want to consume content. We also want to create it, because through this act of sharing we create a sense of belonging to the community, giving our contribution. If collaboration within the community is encouraged, users develop greater membership and use of the platform.
Finally, in the case of platforms that offer the ability to generate video content, the ability to create quality videos is also considered. We see that users feel they have a real ability to create good content in video format, and that they tend to use the social network more constantly.
Generational differences
Given the above and the fact that those who spend the most time on these networks are Generation Y (millennials) and Z, we conducted a study to analyze whether and to what extent these variables influenced their use of TikTok. A total of 1,419 millennials and 882 millennials (born between 1995 and 2011) participated.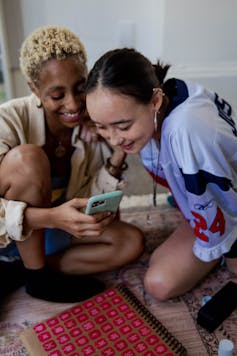 After our research, we found that although all claim that all three variables directly affect platform membership, the weight of each variable varies from generation to generation. While millennials show a strong link between engagement levels and the ability to share behaviors or create videos, Generation Z reports a stronger link to the ability to constantly receive incentives for further use.
Looking at the TikTok case, it should be noted that the impact of the perceived ability of the community to create such videos has also been demonstrated. If users think they have the ability to create great content on TikTok, as others confirm, they will be more committed to the platform.
Therefore, it can be concluded that sharing behavior, the ability to create videos and constantly renewing motivation directly affect the adherence of TikTok for these two generations.
The variable that most affects the adhesion created by this type of video platform has been shown to be content sharing capability. The desire of users to do so, as well as to have other experiences or get feedback, leads them to use TikTok more consistently. These results emphasize the purely social nature of this type of platform.
Understanding what directly affects social media users' sense of attachment is essential not only to develop more effective advertising, marketing and communication strategies, but also to mitigate and address the negative effects – such as addiction – that may result from their use.