The social network is testing a new interface, very inspired by TikTok. With the key to the thorny question of where the photos will take in the future.
Will the camera soon have to be replaced by a camera on the Instagram logo? This June 16, Mark Zuckerberg, head of Facebook and Instagram, announced that the photo history app was testing a new evolution of its main theme, with content now showing in full screen. Faced with fierce TikTok competition, Instagram seems determined to imitate its Chinese rival, in an attempt to retain control over young Internet users.
The emergence of the vertical
If this experiment proves successful, Instagram would then offer three types of content: stories, top of the screen, Reels (short music videos similar to those in TikTok), then "more traditional" content, or simple photos and videos, which we would now see to appear full screen.
By adopting this strategy, Instagram would display all its content in a vertical format, in order to align with the content of our smartphones. A format that is, however, far from appropriate for the vast majority of photos, taken in 16: 9 or more traditional 4: 3 format.
The company does not hide that it wants to favor video at the expense of photography. This goal was directly stated by Adam Mosseri, in charge of the platform within Mark Zuckerberg's group. In a video released on May 3, he insisted that "videos and messages are the future of Instagram."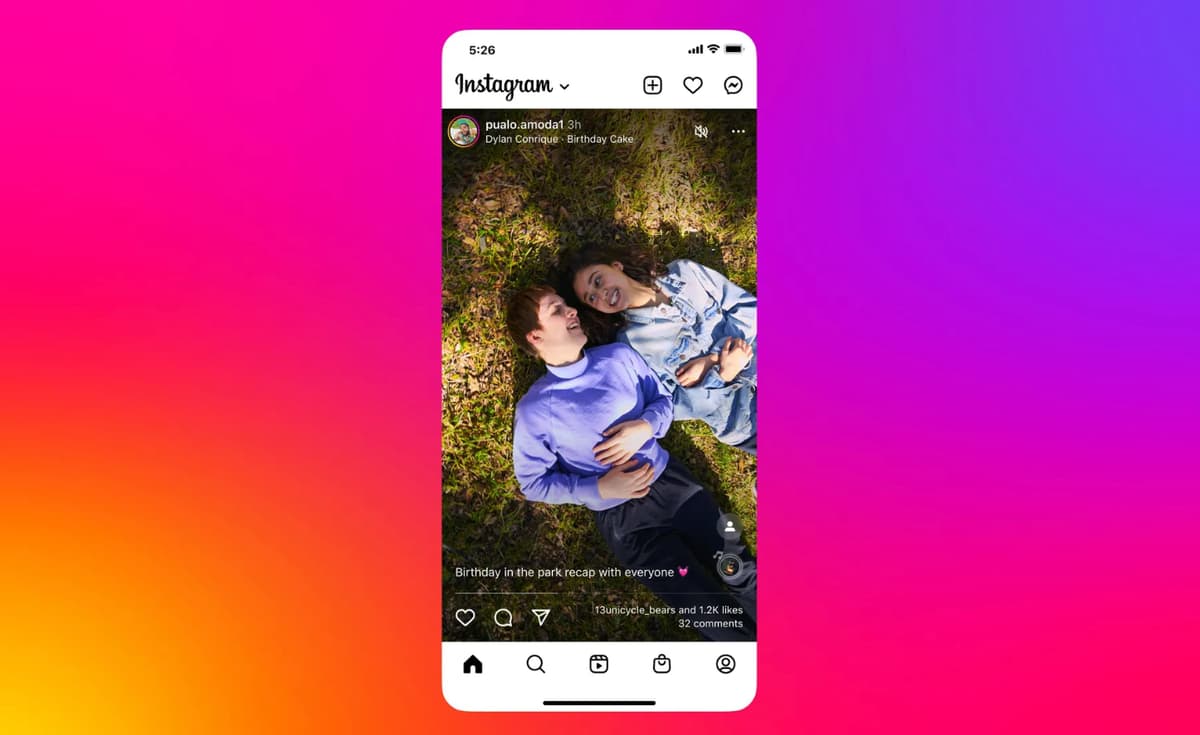 In June 2021. Adam Mosseri already mentioned the priorities of his teams: creators, video, e-commerce and instant messaging, insisting that Instagram is no longer a "photo sharing app".
Ahead of the reversal of our holiday photos?
This June 16, however, Mark Zuckerberg mentioned a photo case, through another Instagram story.
"Photos are still a big part of Instagram and we're working on ways to improve the way I can show the whole screen," he said.
For his part, Adam Mosseri has already decided, estimating that the future of photography on Instagram is the 9:16 format, the only one that will probably fit perfectly into the screen of a smartphone that is held vertically.
For now, Instagram's main thread is still capable of displaying images we've known for years, or even square-format images.
But the company's election suggests two scenarios, which photo enthusiast Kevin Systrom probably never expected when he created the app more than a decade ago, before it was bought by Facebook in 2012.
The first scenario in which the influence of Instagram would be enough to disrupt our habits and encourage hundreds of millions of users to forget about traditional panoramic photography in favor of vertical shots, or portraits.
Another scenario follows, where the 9:16 format would fail to convince, and where the photo would gradually disappear from the application, faced with the omnipotence of video.